CITY OF HAWTHORNE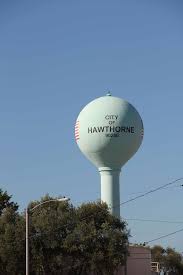 The City of Hawthorne was incorporated in 1922 with an estimated population of 87,000 in a six square mile area near Los Angeles International Airport. Great centralized city in the South Bay, Hawthorne is known for being a transportation hub surrounded by the San Diego (I-405), Harbor (I-110), and Glenn M. Anderson (I-105) Freeways. The city of Hawthorne is home to Space X replacing Northrop Grumman as the city's aerospace company, making The City of Hawthorne the "Cradle of Aerospace."


The City of Hawthorne focuses on building a great city and economy that will support a high quality of life, encouraging new businesses and infrastructure. Trendy businesses like Common Space and Los Angeles Ale Work breweries can be found in Moneta Gardens and East Hawthorne area. Restaurants like Eureka Restaurant, adjacent to the Hawthorne Airport near SpaceX and Tesla offers great food and drinks with trendy ambiance. Other newer developments include 2 newer Marriot Hotels on Hawthorne Blvd. that along with other hotels should increase revenue for the city. Real Estate Firms like Pacific Properties Realty Group powered by Johan Cisneros, The Running Realtor bring a competitive edge to their clients. Pacific PRG incorporates technology and experience of Realtors/real estate agents in order to adapt to today's Real Estate Market. Sellers and buyers effectively compete when buying or selling real estate in Hawthorne or nearby cities (Wiseburn, Holly Glen, Del Aire, Lawndale, Inglewood, Gardena, Torrance, Redondo Beach and much more). Real Estate for sale in Hawthorne has been booming the last few years.


The city of Hawthorne School District founded in 1907 currently has seven elementary schools, three middle schools, and a charter high school in the District. The District's highly rated high school, Hawthorne Mathematics and Science Academy, opened in the 2003-04 school year, offers a focused ready college-prep program. Students from Hawthorne School District not attending the charter high school attend high schools in the Centinela Valley Union High School District such as Hawthorne High School, Leuzinger High School or Lawndale High School.


Hawthorne is known as the home of the Beach boys, as well as Jim Thorpe, known as one of the world's greatest athlete. Track stars and football stars like Michael Marsh, Olympic Gold Medalist, Curtis Conway, NFL receiver and Ron Mix NFL Hall Famer. Marilyn Monroe once lived in the Burleigh Tract neighborhood in Hawthorne.


Looking for a home with quick access to all that Southern California offers including culture, sports, entertainment, mountains, and beaches, check out the City of Hawthorne and its neighborhoods.


Need more info regarding about the City of Hawthorne or thinking of buying or selling in the City of Hawthorne? Homes for sale in the City of Hawthorne? Contact Johan Cisneros, The Running Realtor at 323-547-8094 or any Pacific Properties Realty Group Team Member at 310-349-8777.
Looking for a Realtor in Hawthorne, CA or Real Estate Agent in Hawthorne, CA and or Real Estate Company in Hawthorne, CA? You can email at Johan@pacificprg.com
Pacific Properties Realty Group
13658 Hawthorne Blvd Suite 306B, Hawthorne, CA 90250
Pacific Properties Realty Group
JOHAN CISNEROS, BROKER
DRE#: 02014523